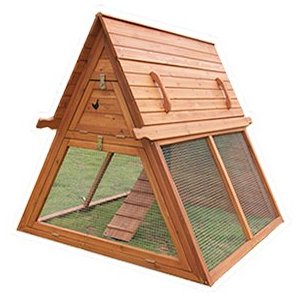 The traditional coop was always firmly fixed in the ground and could not be move around. In some ways that's OK, but there are some very positive reasons for building or buying a portable one. The portable versions are easy to move and offer a variety of benefits.
Portable chicken coops are usually smaller in size than their fixed counterparts, but if you do not need a larger number of hens in your backyard then you should definitely go with the portable. Do not cram too many birds into a small of space. Just make sure that each chicken has at least 3-4 ft of space to move around. Otherwise you may endanger your hens' health, and as a result also the egg production. On the other hand, if your coop turns out to be too big, though there isn't really a "too" big, you can always add another hen.
Safety: A portable chicken coop will allow you to protect your birds from unwanted predators. It will keep your chicken safe and ensure they are protected from harm's way and even changes in climatic conditions.
Convenience: When you have a portable chicken coop you can move it around as and when you please. If your coop was firmly fixed in the ground and you wanted to build a storage shed in that same area given the leveling and electrical fittings, you would have to uproot the structure entirety. Sometimes it's just time for a change and with a portable coop you can simply move it from one corner to another.
Lawn maintenance: When you have a portable chicken coop and you move it around often, you can be sure that the lawn or portions of grass that have been trampled upon by the flock running up and down the back yard can have sufficient time to recover.
Fertilizer: If gardening is a hobby and you wish to fertilize some soil to grow certain vegetables or flowers, you can easily move the coop over these areas and let the chicken droppings fertilize the soil.
Portable chicken coops are best for starters since you're still learning. You're going to be testing the temperature, location and weather conditions suitable for your poultry. Since you're doing this, you're going to make adjustments and transfer things around every now and then. To make moving a little bit easier, it's better to own chicken coops that are portable. You can easily dismantle it when you need to make a change.